Welcome to Community Growth Web!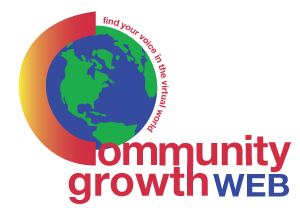 Website Design For Small Businesses and Non-Profits
Let's work
together to
build a website
that you love!

Your organization is unique.
You have goals for your business, a specific mission, your values and your culture.

You have users that need to find your product
or service (because it's great!)
With your vision for your organization and understanding of the users that need to find you

coupled with

My understanding of what can be done technically, we can create a compelling web presence that can be found in searches and enable your target audience to find you and use your services
Website Design
eCommerce
Help with creating a professional newsletter
Business Facebook support
Search Engine Optimization

Website Design: Coeur d'Alene, North Idaho, and Spokane areas and communities beyond.
Sign up for Newsletter (email is not shared).
Learn about classes, discover SEO tips.
If you need a website
Most businesses and non-profit organizations in the community need a great web presence that enables them to reach their success goals.
Go here to find out how Community Growth Web can help you create a website.
Small businesses may need to expand their reach past the local community to be able to meet their profit expectations.
Non-profit organizations want their influence to reach all members of the community and sometimes into a larger community.
Non-profit organizations usually want to spend as much of the money they have on the causes they are working for and don't have a big budget for building a website.
We can all help these non-profits. Read below for a way to help.
Professional Newsletters (like Constant Contact)
Sending out a professional newsletter using Email Marketing can help your business in many ways:
The bar has been raised by email campaigns from other professional organizations. People expect to see interesting, professional-looking newsletters.
Email marketing enables you to avoid the spam filters that your regular email provider uses. You can send out thousands of emails at once.
There is a greater likelihood that your clients/customers will read your newsletter when you have an attractive, professional look. You can also maintain branding by having your newsletter colors match your website.
You can have links in your newsletter to your Social Media outlets.
Email newsletters are easy for others to forward and then they can also join your mailing list.
Newsletter reports enable you to learn who opens, clicks and forwards your emails and what email addresses don't work.
Go here to find out more about how Community Growth Web can help you with creating a newsletter.
Free first hour
It's important to find a web designer that understands what you are trying to do. I offer the first hour that we meet at no charge with the following goals in mind:
1. I can find out exactly what you are trying to do. I come to this process focused on satisfying the goals that you are trying to achieve. Based on those goals, I can customize a few approaches for you within your budget.
2. As you ask questions I can help clarify the options available that I understand based on what you are trying to do.
3. We both get a chance to determine if we think we would be a good team working on the project.
If you want to build your website yourself
I offer classes through North Idaho College to help you learn how to use an online website building tool to build your own website.
Some businesses or non-profits want to develop their own website.

You can sign up for my 2-day, first-level class on Building Your Own Business Website at the NIC Workforce Training Center (through the Small Business Development Center - SBDC): Sept.14, 21.

Classes are limited to 10 people (so I can give personalized attention). Website class will be $49. We will use the computer room so each student will be building a website during class.

Sign up at the NIC Workforce Training website or at the SBDC website. If you want to register by phone, call 769-3333 after August 1st.    
If you want to create your own Newsletter using "Constant Contact"
You may want to send a professional-looking newsletter to your clients/customers to give them information and to remind them of your services/products.

You can sign up for my 1-day first-level class about creating a newsletter using Constant Contact: October 25.
Classes are limited to 10 people (so I can give personalized attention). Constant Contact Class will be $35. We will use the computer room so each student will be creating a newsletter during class.

Sign up at the NIC Workforce Training website or at the SBDC website. If you want to register by phone, call 769-3333 after August 1st.  

You probably need Search Engine Optimization too
It's often not enough to just have a great looking website. You also need to be found by your target market who is doing a search for a service or product that you can provide. I want people to find you!
Go here to find out how Community Growth Web can help you with Search Engine Optimization.
You can get it all here
Community Growth Web can provide all that is needed for professional, small-business and non-profit website design. Coeur d'Alene, North Idaho, Spokane areas are all within reach to receive personalized, full-service website design. When the web community spreads beyond the local, I can help there too.
Website services include: Custom website design, website redesign, newsletter support (like Constant Contact), online stores and shopping carts, website maintenance, search engine optimization (SEO), development of copy for your site, animation, photo creation and editing, and video creation and editing - everything you need for your small business website to be successful!
Flexible and Responsive
Focus on your priorities
Emergency service prioritizes your project when possible
Website Design and Redesign
Custom websites from scratch or redesign from existing structure
Shopping cart integrated with your website's look and feel
Maintenance when you need it and in the way you need it
Emergency service when needed
Affordable web design pricing
Newsletters
I can help you create a professional looking template for the newsletter you want to use for communication.

Once you sign up with these companies, you can send many emails out at once and monitor who is opening them, what email addresses are bad, etc.
I'm always just a phone call away when you have a minor glitch that is preventing your newsletter from working perfectly.
Website Maintenance
All details handled

Thorough testing on primary browsers and in both Mac and Windows platforms
Allows you to make changes yourself when you want that ability
Search Engine Optimization (SEO)
Search Engine Optimization that helps you get the traffic you want
Both Organic Optimization and Pay Per Click

Traffic Analysis and reporting

Don't lose your ranking when redesign is done
Full Photo and Video Support
Photo collages, optimization
Video creation and editing
Animation
Development of Copy
When needed, copy can be created for you based on interviews
Top Reasons Small Business Owners Choose
Community Growth Web
Get the Site You Want
At Community Growth Web, my priority is on listening and understanding what you want before I start. I then validate with you my understanding using prototyping tools.
My attention to your project is complete and very thorough. I take into consideration your business and goals and build on your ideas. I apply creativity and technical know-how to help you accomplish your goals.
It's like having your own web design staff working for you. See completed and current projects.
Have the involvement You Want
If you either "want it handled" or you want to make changes to the website yourself, I can accommodate your needs.
Strong Technical Support
Sometimes there are technical problems associated with website development. Solving complicated software problems is my specialty! Learn more about the owner's abilities.
Socially Conscious Businesses Can Help Non-Profits
As a business, just build a website with me and you will create credits that can be used to reduce the cost of a non-profit organization that needs website work. My normal rates are $50/hour.
If you spend $1000 building a website that takes me 20 hours to build, that buys 20 credits that can be used toward a non-profit organization building a comparable site.
That is, I will build a 20-hour website for only $600 for a non-profit organization. That's at a rate of $30/hour.
You can even specify the non-profit organization you want to support!
If you are a small business or non-profit organization and need web design in
Coeur d'Alene, North Idaho and Spokane area, contact me!